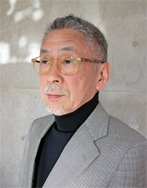 Born in Oita Prefecture in 1949.
Graduated from Tokyo Zokei University in 1973.
Representative of Yamamoto Kiyoshi Design Office, Inc.
Advocate of surface design which derives from interior & exterior decoration
materials, and has been planning and developing designs.
1981, Received an award in "Design Forum 1981 Exhibition".
Selected in International Design Yearbook 1987-1989 ,1992.
Permanent collection at the Canada Science & Technology Museum in 1996.
Published ownbook 'ALFA-A' 1989.
Various member of the board of directions, at THE TEXTILE DESIGN ASSOCIATION
OF JAPAN AND and Japan Textile Council.
Formerly Dean Professor at Hosen Gakuen College.
JOSHIBI GRADUATE SCHOOL OF ART AND DESIGN Guest Professor.